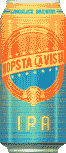 Hopsta La Vista
Hopsta La Vista is one of those full-throttle brews that reminds you to turn down the lights, turn up the tunes, and have a good time! This hybrid IPA is perfectly balanced with the rich, malty backbone of an English IPA and the fruity American hops of a North American IPA. Kicking off its journey on your palate with the sweet notes of honey, malted rye, chocolate, and papaya, it leaves you with a bitter finish reminiscent of grapefruit and orange zest. Medium bodied and creamy in texture, Hopsta La Vista invites you to sit back, sip large and treat yourself to a world of flavour.
Originally concocted by Longslice co-founder and beer lover Jimmy Peat as a homebrew recipe for the 2013 Toronto Beer Week Homebrew Competition, Hopsta La Vista took home the Silver medal. In 2015, Hopsta La Vista took home the Gold medal at the Ontario Brewing Awards. Hopsta La Vista is proud to be Longslice's first official craft brew, and is available at the LCBO for at-home consumption in sexy tall cans.
---
Specs - 6.5% ABV, 69 IBU's, 20 SRM
Malts - Canadian 2-row, Honey Malt, Caramel Wheat, Melanoiden Malt, Toasted Wheat
Hops - UK Admiral, Comet, Cascade, Galena
Formats - 473mL Cans, 30L Keg, 50L Keg, 58.6L Keg
---
Hopsta deliveries in the last 30 days: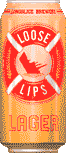 Loose Lips Lager
Ahoy there, Loose Lips Lager is a supremely easy drinking brew! It floods your taste buds with a smooth, toasty-malt flavour, leaving an intriguing noble hop character in its wake. Drinking one of these won't leave ya shipwrecked!
Originally concocted by Longslice co-founder and beer lover John Peat using his favorite malt, Vienna Malt. The barley is kilned slightly longer by the maltsters to give the beer it's unique copper colour and distinctive taste.
We're super stoked about this beer! In our unbaised opinion, it's tasty AF. We really think you'll like it too! So next time you're at the bar ask for a Longslice Loose Lips Lager!
It goes down easy!
---
Specs - 5% ABV, 12 IBU's, 7 SRM
Malts - Canadian 2-row, Vienna Malt, Caramunich II
Hops - Millenium, Czech Saaz
Formats - 473mL Cans, 30L Keg, 50L Keg, 58.6L Keg
---
Loose Lips deliveries in the last 30 days: